Under the Sun Again
Like its predecessors, the brand-new third edition of a classic Sewanee guidebook puts the wonders of the Domain at a reader's fingertips.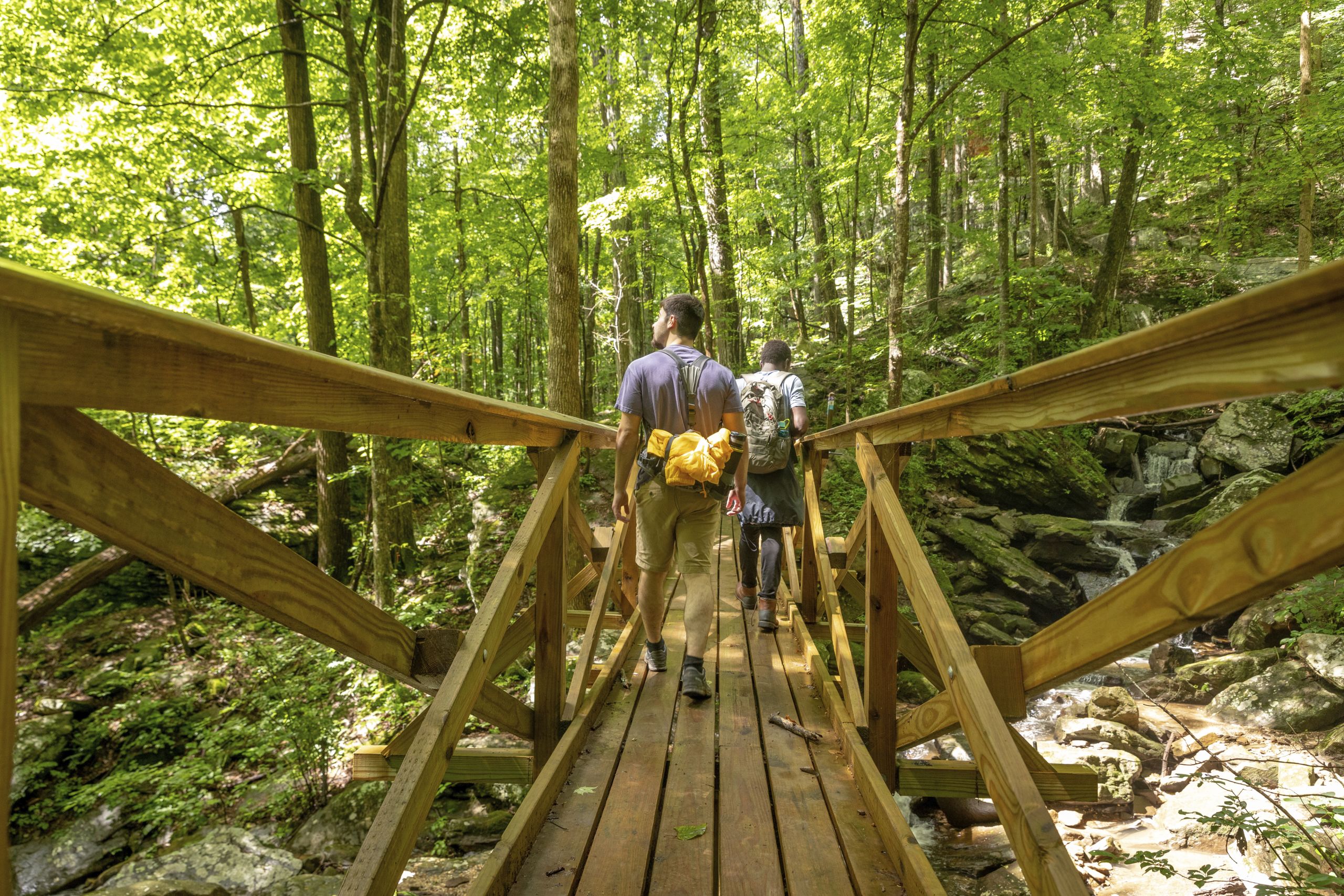 During my sophomore year at Sewanee, a group of my friends and I made a pledge: We'd put down the textbooks every Tuesday afternoon and pick up a copy of Under the Sun at Sewanee. We'd select any one of the overlooks, waterfalls, caves, trails, or other natural wonders listed there to explore. The only rule: Our destination had to be a place that none of us had ever been before. That's how I first found myself enjoying the view into Roarks Cove from Piney Point and KA Point, and marveling at the sight of the Bridal Veil waterfall cascading over a cliff only to disappear into a sinkhole. We were always back at Gailor in time for dinner, with muddied boots and a story to tell.
At that time, in the late '80s, the distinctive canary-colored guidebook was in its second edition, Doug Cameron's 1978 update of Waring McCrady's 1967 original. McCrady's original plan had been to revise the book with new information yearly, but life intervened, and more than a decade passed between editions. Now, 43 years after the second edition appeared in print, Mary Priestley, C'72, has marshaled a team of writers, illustrators, and mapmakers for a reimagined third edition, published by the Sewanee Outing Program.
Twenty-five contributors, ranging in age from 20 to 80, lent their expertise to provide not only a guide to outdoor excursions but a comprehensive look at the natural history—and some of the often-overlooked early human history—of the Domain. 
Sewanee Outing Program Director John Benson takes over from McCrady and Cameron in introducing readers to hikes—on and off trail, on and off the Domain—as well as caving, climbing, and cycling opportunities. McCrady himself contributes a central campus walking tour that will teach you something new in every paragraph, no matter how well you know Sewanee. (Of Convocation Hall and Breslin Tower, he writes, "It is curious to note that the chimney on the left of the main entrance door, prominent from the inside, disappears completely on the outside. It cleverly runs up the entire height of the tower and hides out of sight among the pinnacles.")
Bran Potter writes the chapter on Sewanee geology, while his longtime departmental colleague Martin Knoll tackles the hydrology of the Domain. In other chapters, University faculty and local experts cover everything from early human habitation on the Mountain to Pleistocene megafauna and nearly every living thing you can find here, including trees, wildflowers, fungi, insects, reptiles, birds, and mammals. Lists of native plant and animal species in the back of the book are handy guides for anyone wanting to document sightings.
Priestley says including so much of Sewanee's natural history just made sense. "The natural science programs at Sewanee are so incredibly vibrant right now that we wanted to tap into that expertise. For instance, geology has always been in the book. Well, why not add hydrology? We had poisonous snakes, but what about the rest of the reptiles and amphibians?"
The new edition of Under the Sun isn't just packed with useful information; it's beautiful, too, with plant, animal, and whimsical landscape illustrations on nearly every page, contributed by Priestley, Maddy Keller, C'20, and Latham Davis, who also designed the book. Longtime Sewanee artist Bob Askew chipped in with sketches of campus buildings and landscapes, and the book's youngest contributor, bird lover Angus Pritchard, C'22, did all the avian illustrations.
The book's wide page margins are meant for scribbling, and Priestley says she hopes readers will take every opportunity to make the book their own with notes and sketches. "It's supposed to be fun to sit and flip through," she says. "It's great for the nightstand or the armchair, but I also hope that people will stick it in their backpacks when they head out to explore the Domain."
Sewanee Outing Program Director John Benson believes Under the Sun is not only quintessentially Sewanee, but a unique offering among U.S. colleges and universities. "At what other school in the country would you find this many experts writing about what you can find right on campus?" he asks. "Nowhere else."
---
Proceeds from the sale of Under the Sun at Sewanee benefit the Sewanee Outing Program. The book is available for purchase in person at the University Bookstore and online through amazon.com.