The Pied Piper of Service
For 30 years, Dixon Myers has led Sewanee's outreach efforts on the Plateau, across the country, and around the globe. As he prepares to retire, we look at the deep relationships he and the program have forged and the impact they've had on thousands of lives.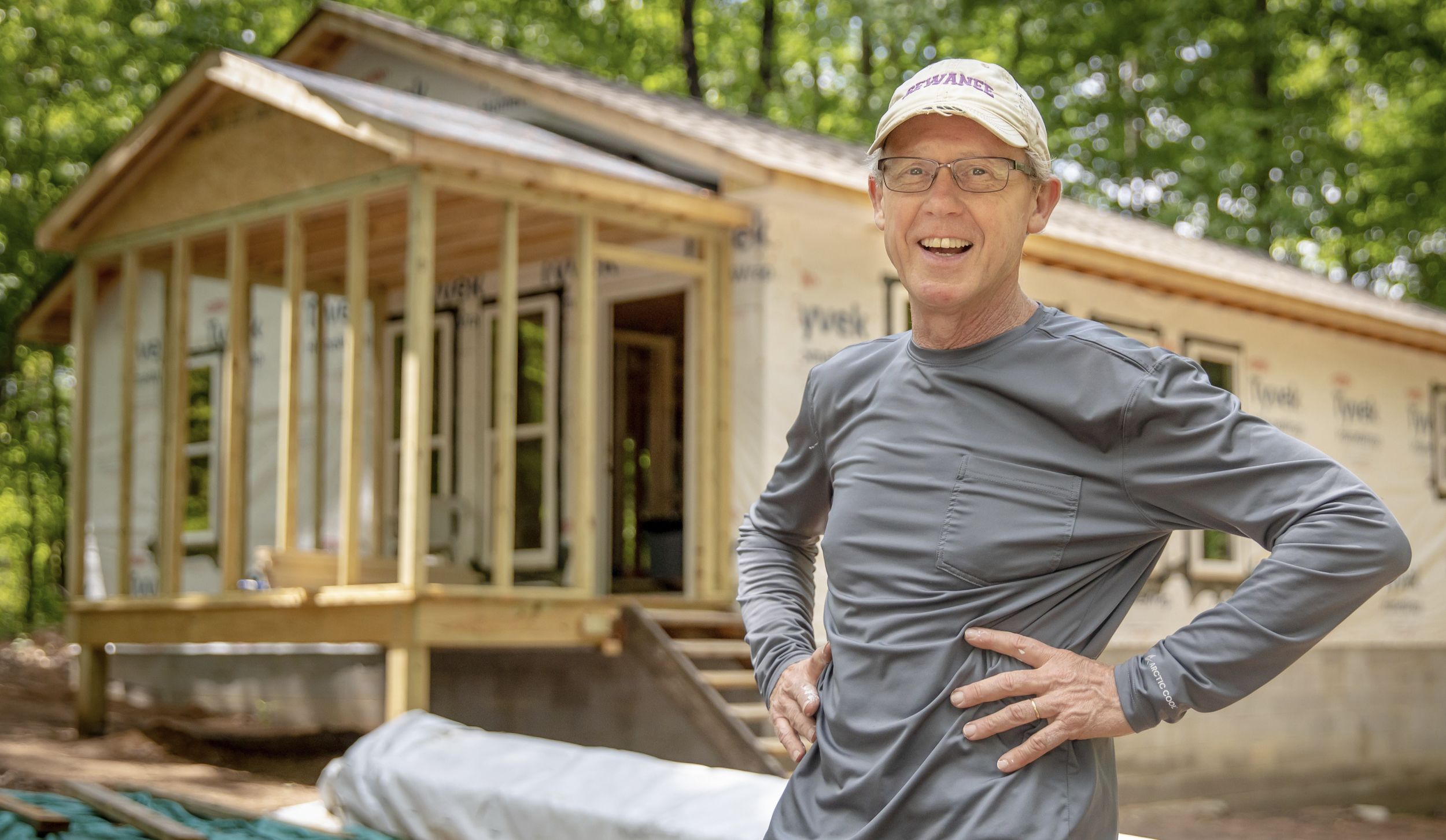 Dixon Myers at Sherwood Spring, where Housing Sewanee is currently building the development's second energy-efficient home for a low-income family.
Dixon Myers at Sherwood Spring, where Housing Sewanee is currently building the development's second energy-efficient home for a low-income family.
Halfway up a mountain near Mirebelais, Haiti, a small party of travelers pauses for a rest under the trees. After a vigorous climb up an exposed rocky track under a tropical sun and at a 20% grade, the trees, growing near a church, provide welcome shade. Knowing only a little Haitian Creole and less French, Dixon Myers manages to engage in conversation with the Haitian interns from Centre de Formation Fritz Lafontant (CFFL), Sewanee's community partner on the Central Plateau of this Caribbean country. The exchange dissolves into peals of laughter that spread around the group.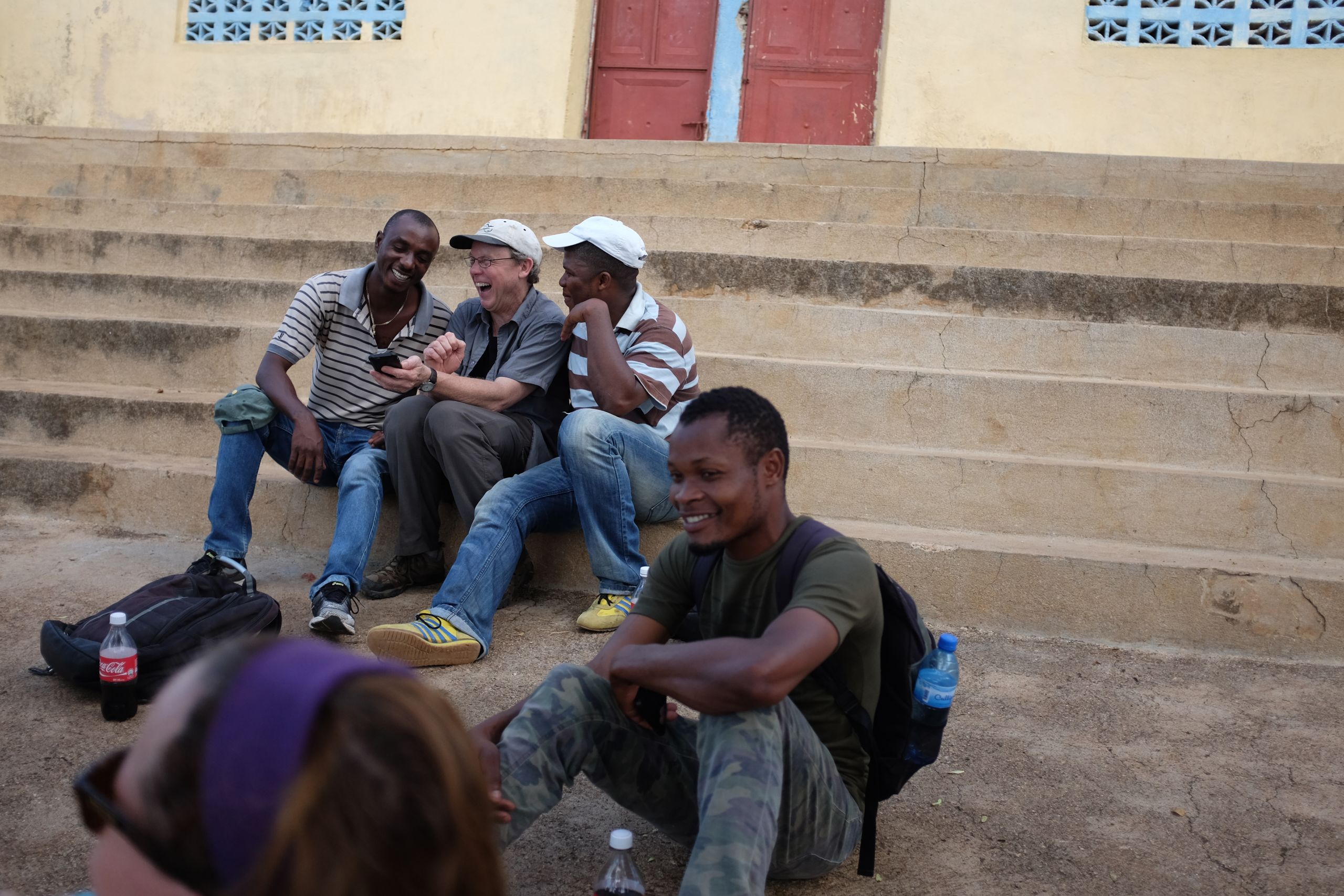 Hundreds—if not thousands—of Sewanee students have had their lives changed by Dixon Myers and an outreach trip he has organized over the last 30 years. Through his leadership, Sewanee and Sewanee students, faculty and staff, have made long-lasting and important connections with communities in the United States and several other countries. Now, as Myers is set to retire just after his 65th birthday in September, he is looking back on the partnerships he has formed over the previous decades.
 "For me, the most important aspect of the Outreach Program is that it provides students an opportunity to take meaningful risks," says Myers. Outreach trips manage the risk of taking students outside their comfort zone, challenging them to find both the familiar and a sense of purpose in a place where the rules of engagement are unclear. "Alumni are always telling me, 'That trip changed my life,' and they know what they are supposed to do with that change. One said to me recently, 'I haven't changed the world yet, but I am going to!'"
Myers first took on the role of shepherding Sewanee's outreach programs in the early 1990s, soon after he and his wife, Annwn, came to Sewanee from Jackson, Mississippi. "Moving to Sewanee was an awfully big step for me," says Myers, who came to the Mountain from the town where he was born, grew up, went to college, and launched a career. 
Myers started his college career at Millsaps in Jackson but transferred to Jackson State University, a historically Black public university in his hometown. He returned to Millsaps to finish. After college, Myers worked in the home renovation business, which he had been doing during his school years. That evolved into a property management business—first for other investors and then for himself. A light bulb moment came when he was asked to evict a family that had not paid rent in several months. "It was terrible. The sheriff was there. All the furniture was out in the street, and the kids were crying. I found myself in that moment thinking, 'I don't need to be here. This is not my life.'" It became a point around which Dixon reflected and prayed. 
"Thank God for Sam Lloyd," Myers says of the University chaplain who hired Annwn as associate University chaplain and launched the couple's move to Sewanee. About the time the Myerses moved to Sewanee, the University began to see the need to support a growing number of students interested in community service and outreach, and Lloyd soon hired Dixon as coordinator of chapel outreach to do work that launched his second career—a career that matched international outreach with local service. Like the hike up a mountain in Haiti, the work was hard, but Myers is unfailingly joyful. 
---
Familiarity with the Unfamiliar
Around 1990, Sam Lloyd and Vice-Chancellor Sam Williamson began to look for opportunities for Sewanee students to participate in spring break outreach trips. The students were energized by the idea, and Lloyd thought it was important to support them with institutional resources. He reached out to Linda Chisholm at the Association of Episcopal Colleges, who suggested that Jamaica might be a good destination, and Myers went along on that first trip as what he calls "a private citizen."
"You know, growing up in Jackson, living in and working in communities that were marginalized made my experience in similar Jamaican neighborhoods a natural transition for me," says Myers. The first several years, the Sewanee group served in orphanages and schools around Kingston, Jamaica, but soon settled on work in Trench Town, a neighborhood that had been created as a model township in the 1950s and 1960s for workers moving from the countryside to the city for work. Today, the neighborhood may be poor in financial resources but is rich in cultural assets.
Until COVID-19 halted travel in 2020, Myers, students, and other faculty led yearly trips to Trench Town, and for the past several years, the group has worked almost exclusively in the Trench Town Culture Yard and Museum. This neighborhood was and is home to many of the reggae artists who rose to fame in the early 1970s. Sewanee outreach trips have built structures at the museum and helped create a 75-foot-long mural created in collaboration with Phil "Sike Style" Shafer, an African American artist from St. Louis.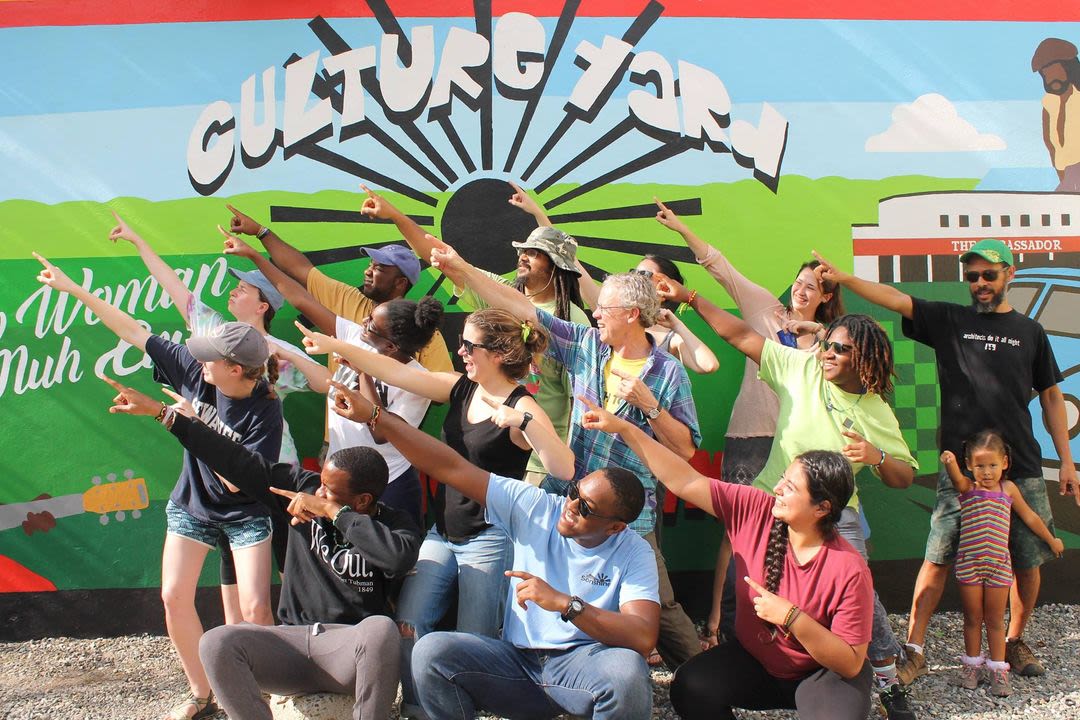 "We had been working with Sister Grace, a Roman Catholic nun who lived in Trench Town, for a number of years prior to the conception of the Culture Yard," says Myers. "She introduced us to people in the neighborhood. Because of our constant involvement, we slowly became more of a player." Sewanee students have been instrumental in building up the Culture Yard, more recently developing a website and conducting a mapping project for the entire district to be published in a book. "It has been a progression, based a lot on our long-term commitment and knowledge of the place," Myers says. "Longevity creates a lot of opportunity because we are now a part of the fabric of the place and not just outsiders." 
Long-term relationships with communities is perhaps the most important aspect of Sewanee's Outreach Program. "We are not just there to look at the unfamiliar," Myers says. "We are there to be partners—to walk alongside our neighbors in these places."
---
Credit Where Credit Is Due
Along with fostering relationships with far-flung communities, Myers has always been open to connections with people at Sewanee—particularly students. And he is quick to give credit to others when talking about his career.
"The Ecuador outreach is another alumni story," says Myers, and he gives credit to Cameron Graham Vivanco, C'95. "She went with me to Jamaica in the early '90s. She graduated, went into youth ministry, then eventually moved to Ecuador and has worked with several church organizations before starting her own nonprofit, Education Equals Hope." Since the early 2000s, an outreach trip to Ecuador has featured work with school children at Education Equals Hope. "She has been so dedicated to Sewanee and our students over the years, having hosted several long-term interns." 
A partnership with the Cloud Forest School in Costa Rica was launched by Felix "Skip" Bivens, C'99, who worked as an assistant in the outreach office from 2002 to 2006. Bivens began taking students there to support the school's mission of environmental education before he left to earn advanced degrees in international development in the U.K. After Bivens, a succession of lay chaplains took charge of the Costa Rica trip, accompanying students interested in environmental education. 
Barbara Banks is a colleague of Myers' who has long been taking students to Miami on service spring breaks, a project that was inspired by Josh D'Alemberte, C'94, who went on the Jamaica outreach trip in the early 1990s. "Josh and I kept up after he graduated and started teaching at Coral Gables High School," says Myers. "His future wife, Alysia, taught there as well and she remains our contact at the school." Banks has always led the outreach trip to Miami, which focuses on tutoring students in an urban educational environment. Myers gives credit to Banks for keeping the project a thriving and meaningful experience for Sewanee students. "Without leaders like her having unwavering dedication, this program would not have had the success it has."
Myers has launched long-term connections with a shelter for men with AIDS in New York City, tutoring and hurricane relief in New Orleans (the second trip that was launched), and hurricane relief in Houston, following Hurricane Harvey. The latter was inspired by a recent graduate, Alondra Ramirez, C'21, whose family had lost their home during Harvey. "I had an overwhelming sense that if we, Sewanee, were going to live up to our commitment as a 'family,' that if we truly believe what we say, then it was mandatory that we do something." Myers organized several trips to rebuild the home. As a student, Ramirez was deeply involved in community service and community engagement, and recently, she was recognized for exemplary community service when she won the Clarence Day Award.
---
Community-Wide Development
While the projects in Costa Rica, Ecuador, and U.S. cities connect students with the work of schools and nonprofits, the Haiti project, like the one in Trench Town, has broader community-development ambitions. When Myers first led groups to Haiti, the trip focused on projects near Les Cayes, a town on the southeastern coast of Hispaniola out on the long southern peninsula of Haiti. Soon, however, the Haiti team heard about CFFL, where students were learning craft trades and agronomy. 
Myers' partners in Haiti are Professor Pradip Malde, who teaches photography, and Professor Deborah McGrath, a biologist who has studied both tropical forests and the concept of ecosystem services. Haiti is notorious for having been deforested, as residents have cut trees to make charcoal for both income and cooking fuel. With the encouragement of Myers, McGrath had an idea: Why not pay farmers to grow trees that can provide alternative sources of income? After talking with farmers in Bois Jolie, the idea of Zanmi Kafe (partners in coffee) was born. On a parallel track, Malde designed a community-development project around visual narrative (Zanmi Foto), with the idea that when people have tools to tell their stories, they build emotional capital and resilience. For over a decade now, these projects have put Sewanee students alongside Haitians, as both Haitians and Sewanee students learn about the dynamics of community development. 
Jim Peterman, who is Myers' supervisor and director of the Office of Civic Engagement says, "As the relationship with partner organizations to these sites has developed over time, the mission has shifted from hands-on student service to the education of students and the development of ambitious social-impact programs. In the case of Haiti, Dixon acted as a pied piper, attracting faculty, staff, and students to come along for the experience and then to move on to substantial leadership roles in these projects. This set of practices has led to an ongoing long-term Sewanee in Haiti partnership that will continue once Dixon retires."
---
A Comfortable Home in Sewanee
A couple of miles out Sherwood Road at the Sherwood Spring site, Myers is working on Housing Sewanee's latest project, an energy-efficient home for a single mother and her children. Very early in Myers' time at Sewanee, he launched this housing nonprofit, modeled on Habitat for Humanity, at first as an activity of the Outreach Program and later as an independent 501c3.
"We built a lot of houses in the [historically African American] St. Mark's Community in the early days, in partnership with the residents of that neighborhood," says Myers. "I used to get a lot of comments from people—professors even. 'Why are you building houses in Sewanee? It's such a prosperous place.' But I thought those comments were a kind of willful blindness. Folks would take their housekeepers home at the end of the day, drop them off, and not notice the condition of their houses." 
Today, Housing Sewanee helps provide homes for people who need them, while also focusing on energy efficiency. Currently at Sherwood Spring, one house is complete, one is under construction, and a third structure sits between them—a smaller, high-roofed garage that is a demonstration space to show off the development's energy-saving measures. Inside the demonstration building, Myers has been obsessed with building a model of the development's features, showing the geothermal HVAC, the dual water systems (utility water for drinking and spring water for everything else), the latest insulation, and the solar panels. "Not being able to travel because of COVID, I've had a lot of time to work on this," he says. "And I had help. [Retired Geology Professor] Bran Potter came in and showed me what the underlying geology looked like, and then [Visiting Assistant Professor of Environmental Studies] Eric Keen said we needed a lake." The model has working field lines for geothermal, and it shows the water cycle from evaporation to precipitation, which percolates through the ground to the reliable spring.
Myers' excitement about the model is palpable, and he is training students to give tours to educate visitors of all ages, from schoolchildren to older adults, about how energy-efficiency systems work. A secondary goal is to inspire potential volunteers and add donors. "You know, it's one thing to partner with someone to meet their housing needs, but then that family has to maintain the house. We are trying to build something here that is affordable both on the front end and for the long haul, and the model shows how all that works."
---
John the Baptist and the Next Thing
For much of his Sewanee time, Myers' work happened under the auspices of All Saints' Chapel and was called the Chapel Outreach Program. About five years ago, in an effort to consolidate related strands of activity, outreach became part of an Office of Civic Engagement (OCE). OCE has fostered the continuing work of outreach as well as a leadership program supported by John Canale, the Bonner Foundation, and the Algernon Sydney Sullivan Foundation; a new Dialogue across Difference program; and an innovative partnership with the South Cumberland Community Fund that, among other things, manages a student philanthropy internship and a VISTA corps that attends to capacity-building on the Plateau. Thanks to the work of OCE, Sewanee has recently been certified by the Carnegie Foundation as an exemplary institution for civic engagement and is now a member of the Public Interest Technology University Network and at the forefront of  undergraduate colleges exploring how to use data for the public good. 
Because of those developments, Myers has been known to say, "I'm like John the Baptist. I started all this through outreach, but these folks in Civic Engagement now are accomplishing things that I never could have done. They are doing amazing work. I was a forerunner, but the real important work is happening now."
While Myers' job is coming to an end, his work is far from over. "I'm still going to be supporting Deb and Pradip, and I'm still going to be building houses and putting all I can into Housing Sewanee," he says with his characteristic laugh. "The big change is that I won't have to fill out another expense report."
Myers is always making connections—finding partners and friends, meeting everyone where they are and honoring their experience. As Deborah McGrath puts it, "For over 30 years, Dixon Myers has poured his heart and soul into building opportunities that help our students grow into global citizens. In the process, they find purpose and meaning in service to others and something bigger than themselves."
Charles Israel, C'95, and Katherine Christy Israel, C'95, have made a lead gift on an endowment fund in honor of Dixon Myers that will support Sewanee outreach in the future. Read more about their gift.
---