TELLING THE UNTOLD
Sewanee Assistant Professor of History Tiffany Momon's award-winning public history project shines a light on the work of enslaved Black craftspeople, whose mastery was eclipsed only by their anonymity.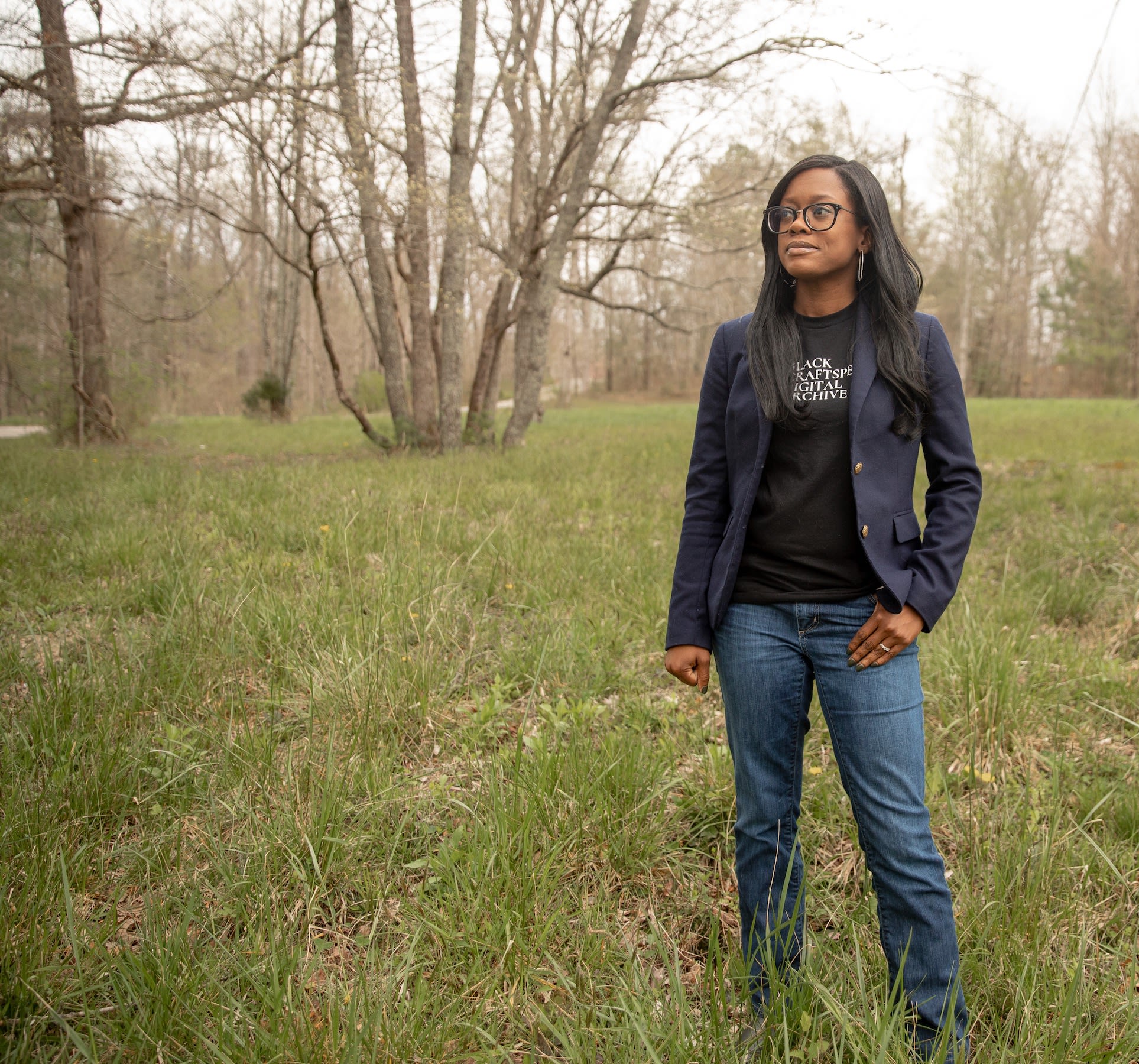 Tiffany Momon stands at the former site of the Kennerly School in Sewanee, which was built by Black craftspeople.
Tiffany Momon stands at the former site of the Kennerly School in Sewanee, which was built by Black craftspeople.
IN FEBRUARY 2020, in the months after Tiffany Momon joined the University of the South as a postdoctoral fellow in the Southern Studies program, she journeyed to Charleston, South Carolina, to deliver a lecture on John "Quash" Williams in the Art and Architecture Lecture Series at the Historic Charleston Foundation. Williams was a craftsman who had played a central role in building some of that city's finest houses. Not only was he an artisan and designer of surpassing brilliance, but he was also a superb manager of talent, leading teams of craftspeople on the design and construction of ambitious projects.
The title of Momon's talk was "The Divine Craftsman in the Holy City: The Untold Story of John 'Quash' Williams." Momon, now an assistant professor of history at Sewanee, sums up her argument this way: "John Williams should be mentioned on every walking tour—every carriage tour—in the city of Charleston. His life was anything but ordinary."
So, if Williams was such a towering figure in the history of this iconic city, why had his story been left untold? Simply put, Williams was born enslaved into a system that, while it could not make his genius less remarkable, could make it less remarked upon.
Telling untold stories is the point of a public history project founded by Momon, the Black Craftspeople Digital Archive. Together with collaborators Dr. Torren Gatson, at the University of North Carolina-Greensboro, and Victoria Hensley, a Ph.D. student at the Center for Historic Preservation at Middle Tennessee State University, Momon has embarked on an ambitious project of discovery—learning the identity of Black craftspeople working in America before 1900 and mapping the connections among them by curating images and stories that illuminate their work.
Now the Black Craftspeople Digital Archive (BCDA) is turning heads around the country as it begins to tell the untold stories of craftspeople from birdcage makers to whitewashers. At the time of this writing, Momon and her team have documented and identified nearly 1,000 craftspeople whose stories, and often whose identities, were previously unknown. One particularly important bit of attention came last fall, when Momon learned that BCDA was the 2021 winner of The Decorative Arts Trust Prize for Excellence and Innovation, which came with a $100,000 award.
Momon remembers clearly when she learned the news. "I was sitting in my car parked on University Avenue one morning when my phone rang with the news. I'd just arrived on campus to teach that morning. I remember asking repeatedly 'We won?!' because I was shocked. While I knew the project had merit, I did not know if the decorative arts field was ready to embrace a project that challenged how the field had always worked. I remember being asked how my family was doing and I responded along the lines of, "They're ok. I can't really think clearly right now because we won the prize and this is going to change everything ..." Momon knew that the prize would change everything because it would provide resources to move the work forward more quickly and give the recognition that would allow the project to gain more support in the future.
The recognition by the Decorative Arts Trust means much more travel for Momon, as historical societies and museums clamor to hear from her, with multiple speaking engagements around the country in this academic year. In fact, the invitations are frequent enough that Momon has had to set boundaries—times she will not travel in order to focus on research, classes, and family.
THE PROJECT
WHILE THE DECORATIVE arts trust could clearly see excellence and innovation, the prize committee could also see tremendous promise. Currently, BCDA focuses on two states: South Carolina, home of John Williams, and Tennessee, where Momon and Hensley are currently actively working. The team has focused on the foundational step of simply identifying craftspeople, naming them when the researchers can, or discovering information about them from newspaper records and census data.
"One of the best places to discover the presence of Black craftspeople is in the so-called runaway slave advertisements of the 19th century," says Momon. "When a craftsperson self-emancipated, the enslaver would place an advertisement in the newspaper to be on the lookout for the individual. From those advertisements, we can learn the person's name, where they lived, and many details such as their skill level and personal traits." When the researchers find evidence of a craftsperson, they are added to the archive, along with an image of any documentary evidence the team has uncovered.
"There is a lot of interest in the last two years in learning more about stories of Black craftspeople. Nobody was talking about the Black people who were making these things. You would hear about this piece of furniture, for example, that was in this house, or that room in the house, but not about the craftspeople."
When fully realized, the project will include two more assets—an interactive map, showing the location of craftspeople by trade, and an objects database, that will allow visitors to the site to view photos of museum pieces by Black craftspeople and observe the interplay of styles by artisans who were previously unknown or under-known. And it can also open up to more states, with Virginia, North Carolina, and Alabama being in next-stage plans.
"Place ties very heavily into the story," says Momon. "Black craftspeople's experiences vary widely by place. For example, in 18th-century Charleston, there were laws preventing Blacks from working in specific trades. That was not true of other locales. Even so, folks would find their way around those laws."
Of course, a critical part of talking about the work of craftspeople is considering the specific objects created by artisans. "There is a lot of interest in the last two years in learning more about stories of Black craftspeople," says Momon. The new attention to the role of Black craftspeople contrasts strongly with practice in the past. "Nobody was talking about the Black people who were making these things. You would hear about this piece of furniture, for example, that was in this house, or that room in the house, but not about the craftspeople.
"You go to a place like Colonial Williamsburg, and the story presented there is a story about mostly white colonial residents forming a new country. But Williamsburg was a majority Black city for much of its history. Black people were instrumental in making that place, doing the work and the craftsmanship that made it a cradle of democracy."
For many of these craft objects, then, a fundamental part of the provenance is missing. And a big part of the story was missing, too. Building fine furniture relies on lots of other craftspeople who work on the component pieces—the people who saw the boards and tan the hides that become fine leather to be used in shoes and in the upholstery of fine furniture.
"This is really a social story," says Momon. "It's a story of all kinds of makers."
Consider Richmond Pugsley, a birdcage maker in Nashville in 1870. At one point, Pugsley was arrested for trapping birds. He paid his fine and returned to his normal life of making birdcages. Pugsley had a thriving business during the Victorian era, when keeping birds as household companions became popular. Notably, as far as the trapping charge goes, that era was also before the migratory bird treaty of 1918. Before then, trapping of birds was common, and at least some of Pugsley's cages must have helped people capture the birds they then kept in the home.
"It's a good moment for uncovering these stories," says Momon. "Museums and auction houses are now scrambling to learn more about the Black craftspeople who made the objects in their collections, and some of these objects are exploding in value." One such artist is David Drake, an enslaved potter born about 1800, who is thought of as the first enslaved potter to sign his work. Drake was also literate at a time when laws and practice discouraged African Americans from learning to read, and he inscribed his pots with rhyming couplets.
Currently, BCDA's object database contains a few images, but curating this resource is an important step that Momon and her colleagues can take thanks to the Decorative Arts Prize. "The object database will really allow us to start understanding the work of Black craftspeople in a different way," she says. One way that is true is through the study of influences. Knowing artists' names is a tool that helps researchers think about the history of styles, and the influence of particular craftspeople on those styles. "You can start to compare artists who are living in the same place and trace how their work influences others across distances to see how they are in conversation with each other."
While the object database is a work in progress, a great place to see the progress is in the BCDA Instagram feed, with its "object of the day" series. Images on the feed range from stunning pieces of furniture to scans of "runaway slave" advertisements that reveal the identity and skill level of craftspeople who have self-emancipated. High resolution versions of many of those images will be in the object database, a database that is rapidly filling.
"We meet with museum curators often, and we have put out overtures for images," says Momon. "They are generally eager to help us and send us high-quality images taken by professional photographers."
WHAT THIS MEANS FOR SEWANEE ...
MOMON'S ARRIVAL at Sewanee was made possible by a grant from the Andrew W. Mellon Foundation to foster a Southern Studies Program, and the ambition of faculty in the program was to tell a more complete story about the South. "One of the challenges in studying the South is bringing the lives of ordinary people into focus," says John Grammer, director of the program. "The great thing about Tiffany's work—on Black craftspeople, on architecture and historic preservation, and on local histories—is that it reminds us of the vibrant intellectual, imaginative and moral lives that are always being lived by people who are unknown but, once you see them clearly, far from ordinary. That, and her knack for bringing what she knows to audiences in the classroom and well beyond it, make Tiffany invaluable to Southern Studies."
Momon brought two needed skills to the program. First, she was a graduate of a noted public history program at Middle Tennessee State University, a sub-discipline in history that is underrepresented at Sewanee. And second, in a related way, she also had experience in digital humanities, an area into which Sewanee had made a few forays but had not built a sustained presence. Once on campus, she quickly became allied with the Roberson Project on Slavery, Race, and Reconciliation and its founder, Woody Register. "Dr. Momon has brought substantial creative and critical energy to our many efforts to diversify the histories we tell about Sewanee and to make those stories more accurate and truthful because they are more inclusive of the many African American people who have made this community a community for the last 160 years," says Register. "Her experience as a public historian, and her commitment to the public in public history have been invaluable to the Roberson Project."
"There are brick walls and brick houses in Charleston, and we have no idea who the brick makers or bricklayers are. But their fingerprints are embedded in the bricks, as the craftspeople took bricks out of the brick molds and placed them to be fired."
Momon and Register are now collaborators on a related project with national significance as they head up Sewanee's work as one of six regional collaboration partners with the Council of Independent College's Legacies of American Slavery Project. At least part of Sewanee's success in gaining this national recognition was that a public historian was completely engaged in the work. "Historians write for historians," explains Momon. "Public historians write for everybody. The work is very much interdisciplinary. That's why we have a 'contribute' button on the BCDA website. We'll hear stories like, 'My grandfather was a chairmaker or a furniture restorer, but I never knew anyone would be interested.' Those are the stories I want to get told over and over. We want to bring lesser-known artists to light."
BCDA is not the only digital archive in this space, and one of the attributes of the program that sets it apart is that it includes people whose names are unknown. Momon finds great satisfaction and joy in documenting their presence, even when other biographical information is unknown. "There are brick walls and brick houses in Charleston, and we have no idea who the brick makers or bricklayers are," she says. "But their fingerprints are embedded in the bricks, as the craftspeople took bricks out of the brick molds and placed them to be fired. We may not have ever heard their stories, but those stories are embodied in the work, sometimes with physical and very personal evidence, such as their unique fingerprints. They have made their presence known on the landscape."
Momon acknowledges that an interest in the lives of her ancestors led to leaving a job in corporate America to study history. In creating BCDA and celebrating the lives of Black craftspeople, that interest has turned to joy. "We are engaged in a joyful acknowledgement and praise of people in the past, and we are encouraging others to do the same," she says.
Note: The Decorative Arts Prize comes with an expectation that Momon and the University will raise matching funds to help the project come to fruition more quickly. If you are interested in supporting this work, make a gift to Sewanee and designate it for the Black Craftsman Digital Archive.