Setting a New Tone for the University Choir
More than 25 years after their own life-changing choral experiences at Sewanee, two alumni make a landmark gift that will shape the choir and the lives of its members for years to come.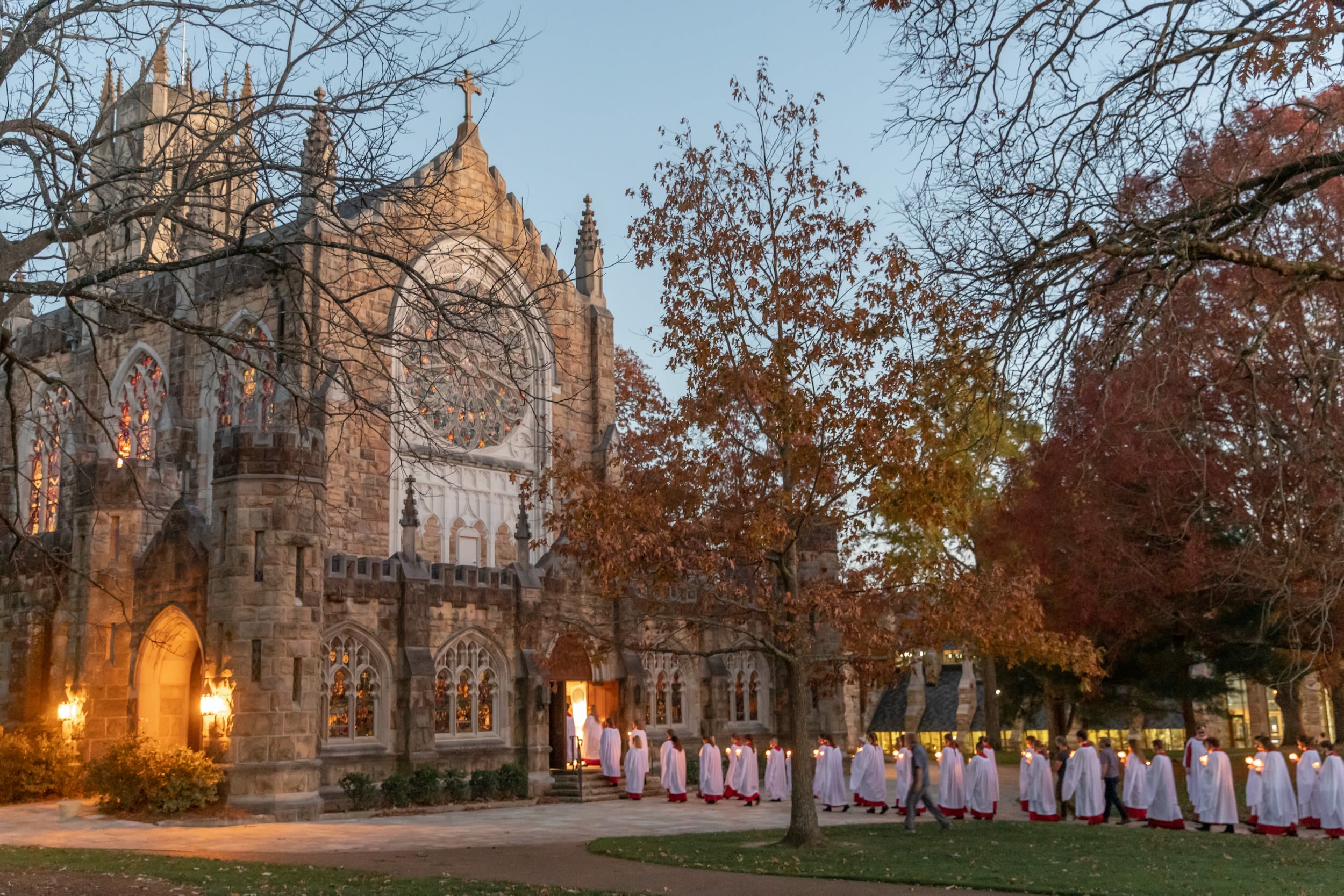 On the last Saturday of January, the University Choir celebrated Evensong in All Saints' Chapel before a larger-than-expected congregation. Evensong is a service held at sunset in the Episcopal Church when, as University Chaplain Peter Gray noted, "the choir does the heavy lifting." The service includes readings from the Old and New Testament and a sung liturgy in Psalms and canticles. After the climax of the service—the moving "Evening Hymn" by H. Balfour Gardiner—the crowd processed to a reception.
Many attendees came to celebrate because it was the first Evensong service in the chapel since November, and Convocation Hall was full. But more than a few came knowing something was up. One member of the community later reported, "[Choirmaster] Geoffrey Ward said, 'You should really come to Evensong,' and waggled his eyebrows."
Soon enough, what was up became clear. Acting Vice-Chancellor Nancy Berner took the podium in Convocation Hall and announced a $4 million gift to support the University Choir from Christina Vial Comer, C'95, and Patrick B. Comer, C'96. "This contribution will establish multiple student scholarships for members of the choir across all sections—soprano, alto, tenor, and bass—as well as provide critical funding for departmental operations, institutional programs, choir tours, and more," Berner said.
"We are just ecstatic," says Ward. "This gift is going to enhance and amplify the musical work that has been happening at Sewanee since the time of [choirmasters] Joseph Running and Robbe Delcamp. The choir is an outreach to the community and the country espousing the virtues of commitment and excellence. The support and encouragement that we've received from the Comer family will continue in a way that enables us to recruit the brightest and best to the University Choir."
Touring is a particularly important part of the outreach picture—for the choir, the church, and the Comers. "Every choir director brings a different energy," says Patrick Comer. "Dr. Delcamp took everyone who wanted to sing and then held the choir to an elite standard. Geoffrey Ward is a perfect segue from that tradition. We know that the choir is going to be able to go to England and hold their own singing in the English cathedrals. That's the standard—to be able to be on par with the English choirs."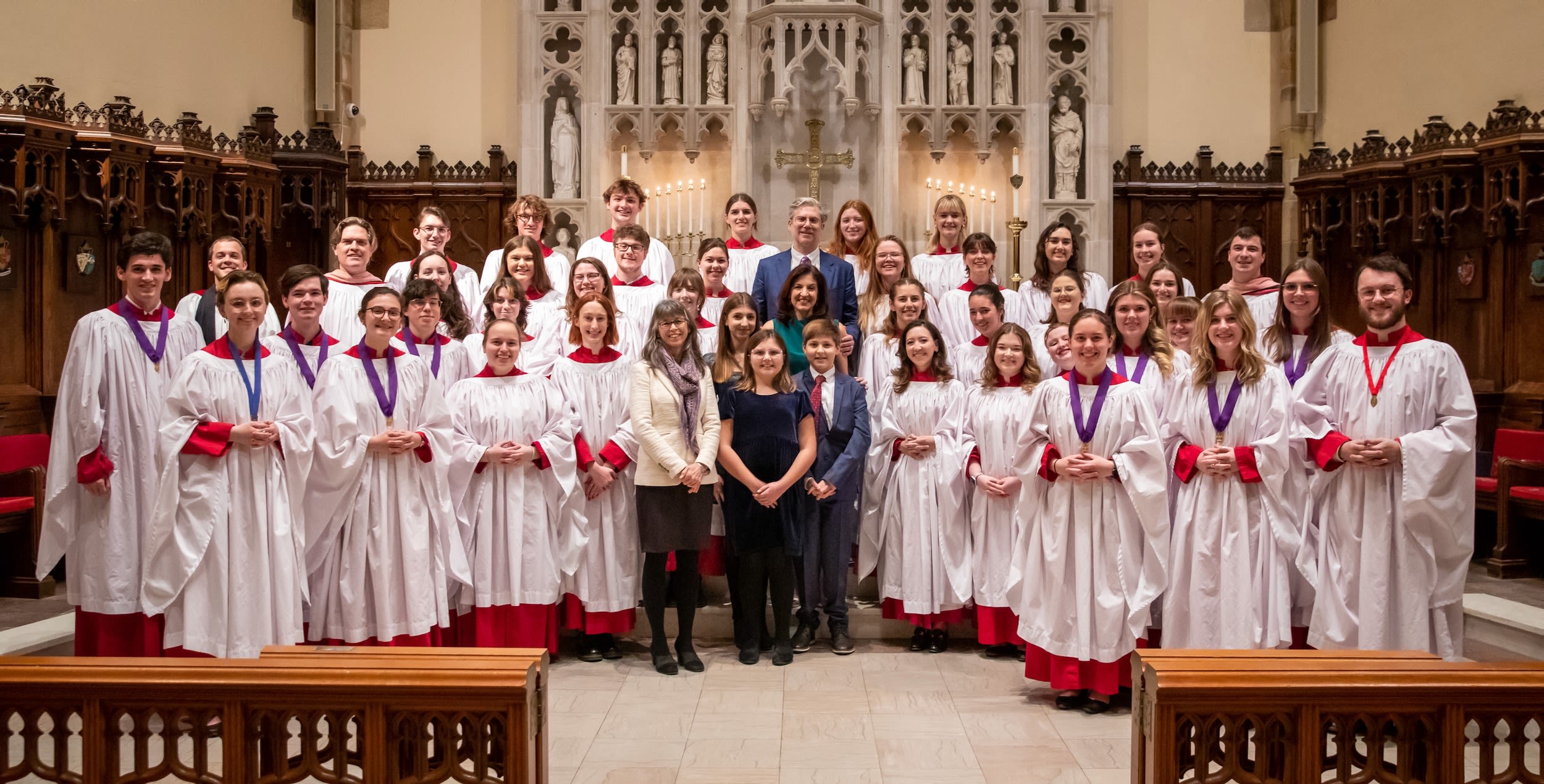 The Comer family (center) with Acting VIce-Chancellor Nancy Berner and the University Choir.
The Comer family (center) with Acting VIce-Chancellor Nancy Berner and the University Choir.
The new endowment will go a long way toward ensuring that the choir can meet that standard. The scholarships mean Sewanee can recruit good singers for every part, and those singers will be supported in other ways after they enroll. Currently, choir members need to cover a significant portion of touring costs themselves. With the support of the Comers, the current and future choir will be able to tour in North America and England more frequently with less cost to the choir members.
That suits the Comers. When Christina spoke about that gift at the reception, her first comments were directed to the choir itself—not just the present choir, which celebrated Evensong that evening, but choirs of the past and choirs of the future. "You had to choose 'Evening Hymn,'" she said. "Your singing just transported me to a place of joy. I wept. Without your contributions, Sewanee would be a different place. You are in All Saints' Chapel every Sunday. You contribute at Holy Week, Lessons and Carols, convocations, and Evensong. Your voices make possible spiritual moments that touch the congregation and choir alike. When we were in the University Choir, we had many such moments, and we are called to give back. So don't forget to give back."
"This extraordinary gift will guarantee Sewanee's ability to uphold a long-standing tradition of a robust choir—which not only honors Sewanee's Episcopal heritage but also serves as a critical tool for competitive admissions and student recruitment," says Berner. "The impact that Christina and Patrick will have on the future of this University will continue to be seen for generations to come."
"You always ask the question, why is someone giving," says Scott Smith, a gift officer in the Sewanee advancement office. "I think they were interested in this gift for a lot of reasons: love for the University, their church connections, their hope that it would help with admissions. But it's mainly those kids in the choir."
The Winding Path
The Comers both sang in the University Choir as college students, with Christina serving as choir president and performing many solo roles as a soprano and Patrick as tenor section leader. When Patrick was a senior at Sewanee, the choir performed an Evensong service that he had composed. Patrick majored in music and theatre at Sewanee.
At Sewanee, the Comers were friends but not a couple and went to opposite sides of the country after graduation. With her sights set on a career in music, Christina attended the San Francisco Conservatory of Music and trained as an opera singer. Over the next decade, she performed roles in multiple countries and, after a few years, relocated to New York.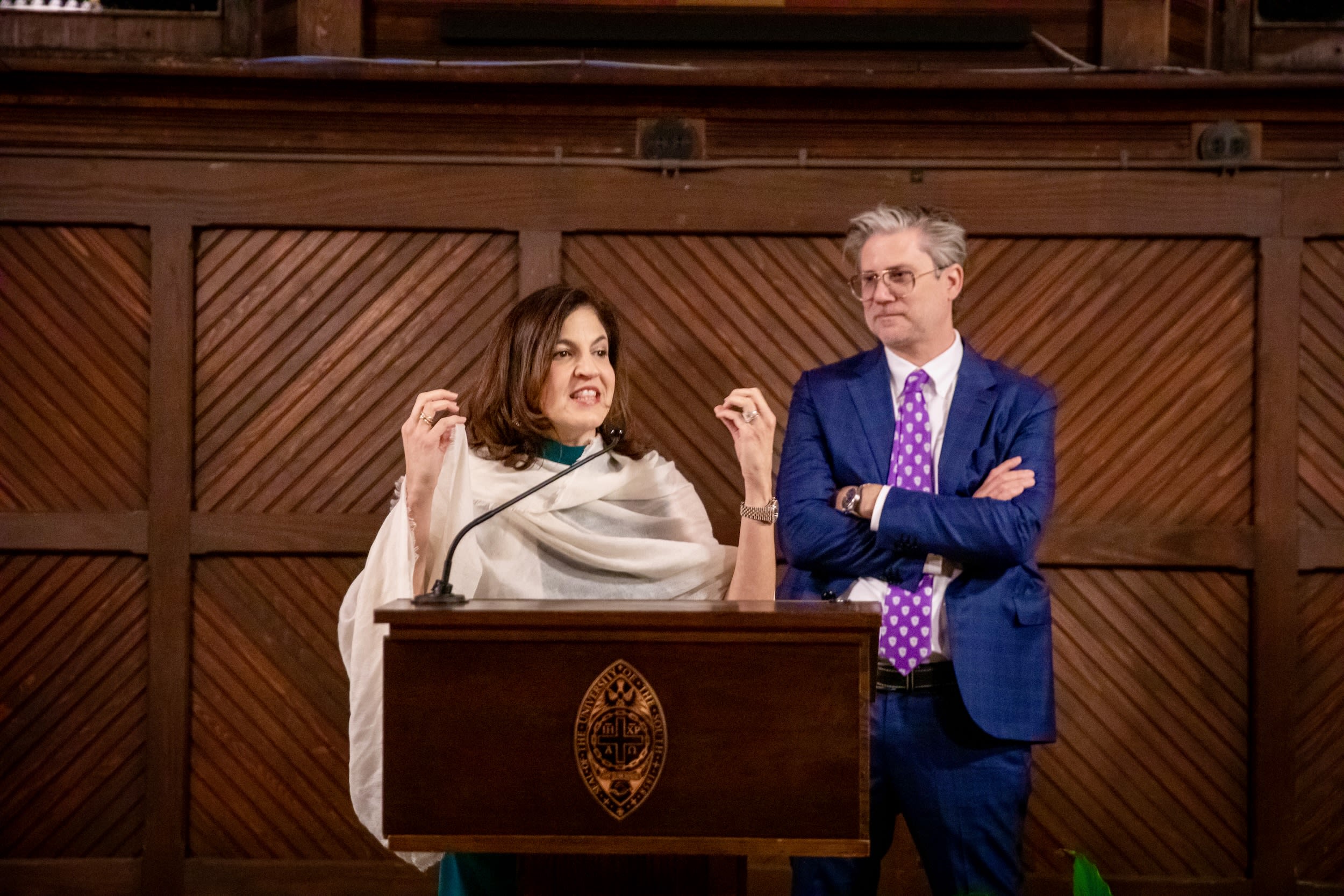 When Christina entered Sewanee, she was under strict orders about what she needed to study. "My father had rules," she says. "You could study pre-law, pre-medicine, or pre-business. He had raised a family of 12 children, and he wanted us to be able to take care of ourselves." Christina started in pre-med, taking EMT training and all the courses to keep her on track toward medical school, but she also joined the University Choir. She had grown up in the Episcopal Church, singing hymns at St. Andrew's Episcopal Church in Paradis, Louisiana, and the choir, with its role in the life of All Saints' Chapel, was a big draw. "Music was really my passion," she says, "and since I began getting solos, that led a lot of people—including me— to think I should be a music major. Fortunately for me, my older sister had declared a major in religion a year or two before. It softened the blow."
Christina had an ally in that charm offensive. The late Professor Gil Gilchrist had been her professor in one political science class "that I probably did not do well in," she says. As a long-time producer of musical theatre at Sewanee, staging multiple Gilbert and Sullivan operettas, Gilchrist was enthralled by Christina's voice. "Every time I sang, he made a recording and sent it to my dad," she says.
"I never knew Dr. Gilchrist and I had so much in common," says Patrick with a smile.
When Patrick joined the University Choir as a freshman, Christina was already being tapped for solos, and, like many others at Sewanee, he admired her voice. A veteran of choirs in his native Alabama, Comer was soon selected as tenor section leader. For Patrick, son of Episcopal priests who were at Sewanee when Patrick was a child, music and theatre were perfectly acceptable majors, and he threw himself into both.
After graduation, Patrick moved to New York for work in theatre and kept up his singing as part of the highly respected St. Bart's Choir. After about five years, he began to rethink his career path. "I think if you want to be successful, you need to be able to redefine yourself," he says. "I was a theatrical carpenter when I was in New York. After the dot-com bubble burst and 9/11, there was no work for people doing what I did. That meant moving to California because that was where the energy was. It's like Christina and I switched places."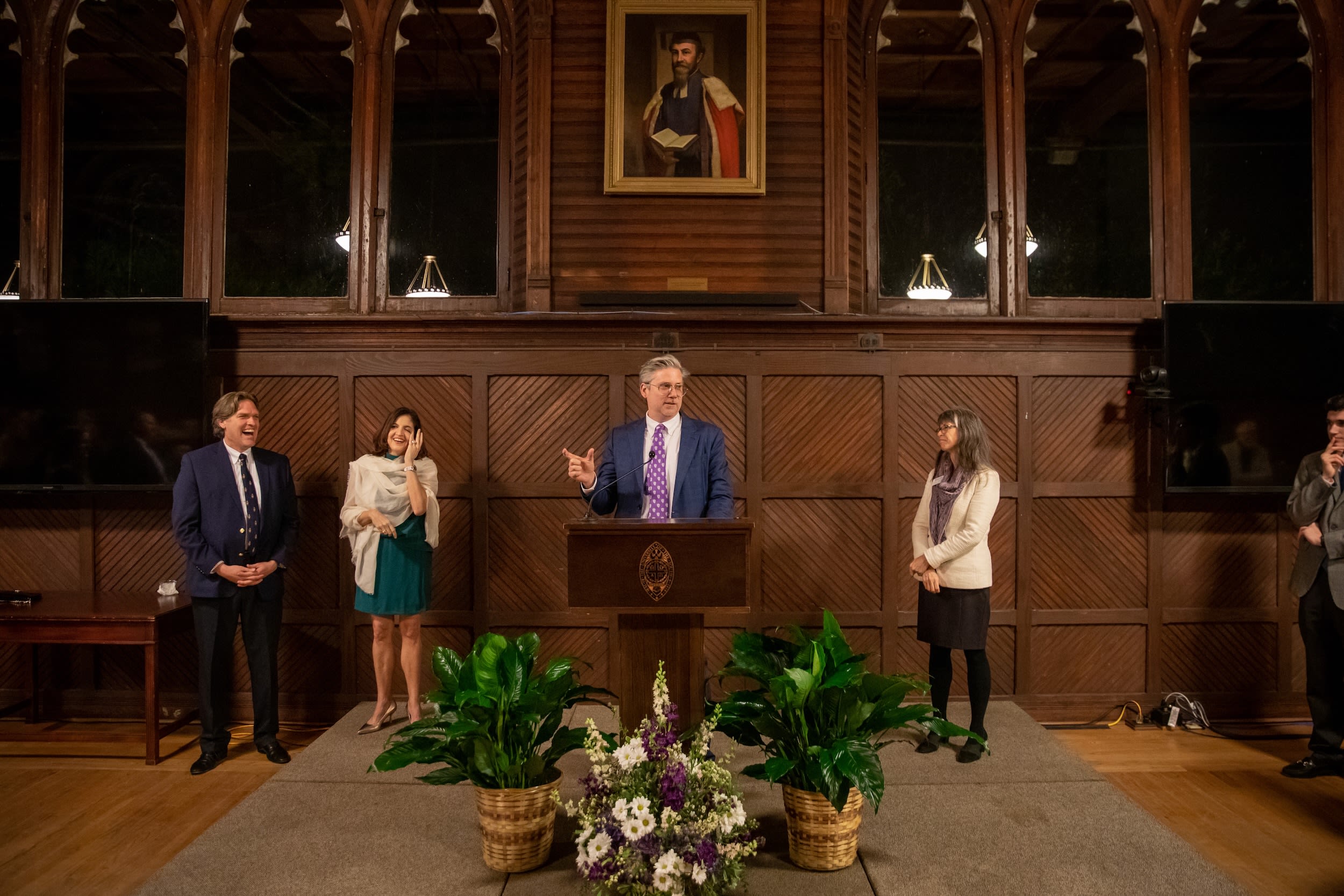 The Comers did not become a couple until the mid-2000s, when they reconnected at Christina's 10-year choir reunion. A year later, they were married in All Saints' Chapel with the University Choir on hand and decided to move to Louisiana to raise a family. Christina took a break from her musical career, and the couple set about building a tech company in New Orleans to help bring the city back from the devastation of Katrina.
That company is Lucid, which makes software that offers organizations easy access to large pools of survey takers. For over a decade, Comer worked to build a company that eventually, in 2022, became the target of acquisition by Cint, a Sweden-based global software leader in research technology. Recently, Cint has made several significant acquisitions to build its capacity to thrive in a global market. When Cint purchased Lucid for $1.1 billion, the New Orleans business press responded enthusiastically, trumpeting the first "unicorn" for the city's developing tech sector.
"As chairman, my big job is supporting two different cultures," says Patrick. "Merging a Swedish company with an American company is a challenge." One area that Patrick is working on is employee compensation. "In an American tech company, employees expect to earn an equity share in the company. But that's not the case in Sweden. So, I am working on building those compensation practices so that Cint will be competitive for talent acquisition in a global marketplace."
The Gift
By any measure, a $4 million gift is a magnificent one—one of the largest outright gifts in the University's history.
"You know, when you are in the choir, you sit in a lot of services," Patrick said at the reception. "And it's inevitable that you will hear on more than one occasion the University Prayer, with that critical phrase, 'raise up a never-failing succession of benefactors.' Listening to that prayer as a music and theatre major, I had to wonder—with a nod to New Orleans and 'When the Saints go Marching In'— will I be in that number? We have been given so much by Sewanee and by our time in the University Choir, and it brings us joy to be in that number."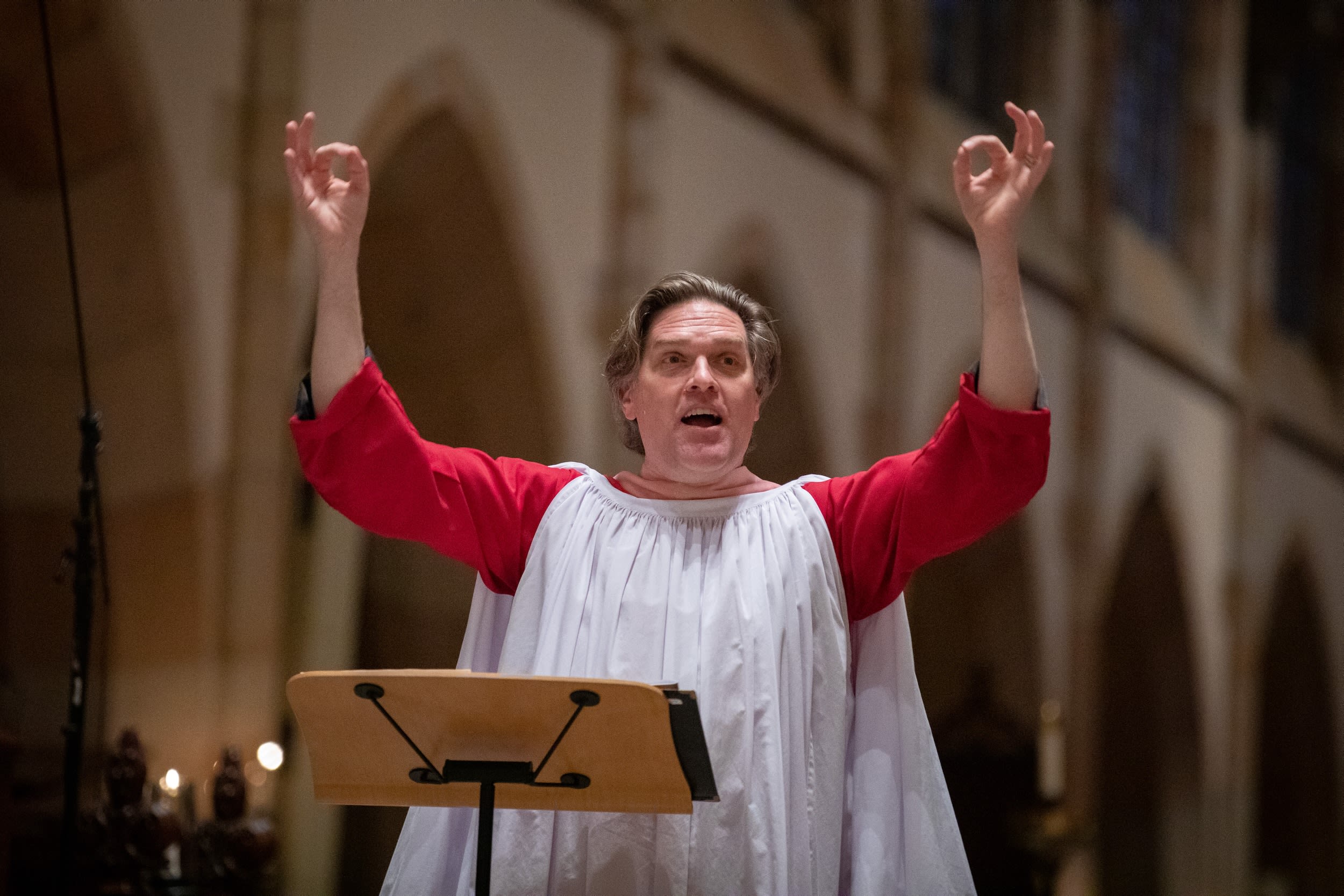 "The choir is an outreach to the community and the country espousing the virtues of commitment and excellence," Choirmaster Geoffrey Ward says. "The support and encouragement that we've received from the Comer family will continue in a way that enables us to recruit the brightest and best to the University Choir."
"The choir is an outreach to the community and the country espousing the virtues of commitment and excellence," Choirmaster Geoffrey Ward says. "The support and encouragement that we've received from the Comer family will continue in a way that enables us to recruit the brightest and best to the University Choir."
The Comer gift is a remarkably personal one. When Christina speaks, what comes to mind is that succession of benefactors, but what she sees and hears is that the benefactors are the members of the choir, whose talent and effort touch the entire campus. It is "those kids," but it is also the kids of the past, and the kids next year, and the year after that.
"One thing we are really interested in is the reaction of previous choristers," Christina says. "You can't overstate how impactful the University Choir was for all of us who were in the choir. We hope that our gift is just the beginning of a response by people who love the choir because it is an amazing part of this university." Christina points out that in the mid-90s, 80 people were in the choir. "There is a large choral alumni base."
Patrick adds, "When you think about how often the choir is front and center at University events—at commencements, Lessons and Carols, when students get their gowns, during Holy Week, and at weekly church services—the choir reaches more people than any sports team and has a lot to offer those people and those occasions."
For the Comers, protecting and elevating this aspect of Sewanee life speaks both to their lived experiences and their compelling vision for the University. "When Dr. Delcamp retired, it seemed like in some circles, there was a question about whether he would be replaced" says Patrick. "And fortunately, the University kept faith with the choir and hired Geoffrey Ward. Our gift takes that question completely off the table in the future. We also hope it will rally the troops. We want to send a message: It's OK to support Sewanee. It's great to contribute to aspects of Sewanee that contributed to your life."
The Comers and the Liberal Arts
For both Christina and Patrick, attending a liberal arts college—and an Episcopal college—was a central event in a life story, and it is clear that Sewanee is not something in their past but something that always was. "If you haven't figured it out by now," Patrick told the crowd at the reception, "I was conceived at Sewanee," nodding at his parents in the crowd.
Theatre Professor Dan Backlund was thrilled with the gift and the connection to his department. "We love what this gift and Patrick's career says about the liberal arts," he said. Patrick Comer frankly acknowledges the connections between theatre and business success. "I basically talked my way into being a tech CEO," he says. "It's a lot like playing a role. You become the character you are playing." He is also prepared for negotiating the tricky differences in organizational culture, working for a company with an international presence.
Equally true, Christina's choice to pursue her passion for the performing arts was recognized and fostered by Sewanee people and institutions.
Together, they are a remarkable couple with a strategic vision that transcends the local. Moving to New Orleans to raise a family, they set out to help rebuild the city and launch a tech sector. In making a gift to the choir, they are working to secure its role as a central part of the Sewanee experience. This gift is significant not just because it is one of the largest ever, but because it has behind it the force of the Comers' vision, which encompasses a keen awareness of past, present, and future for a place they love.