Finding Their Voice
A newcomer to playwriting, Carson Mendheim, C'25, takes the Critics Choice Award at the Alabama Shakespeare Festival's Young Southern Writers Program by mining personal history and navigating the intersection of Southern culture and queer identity.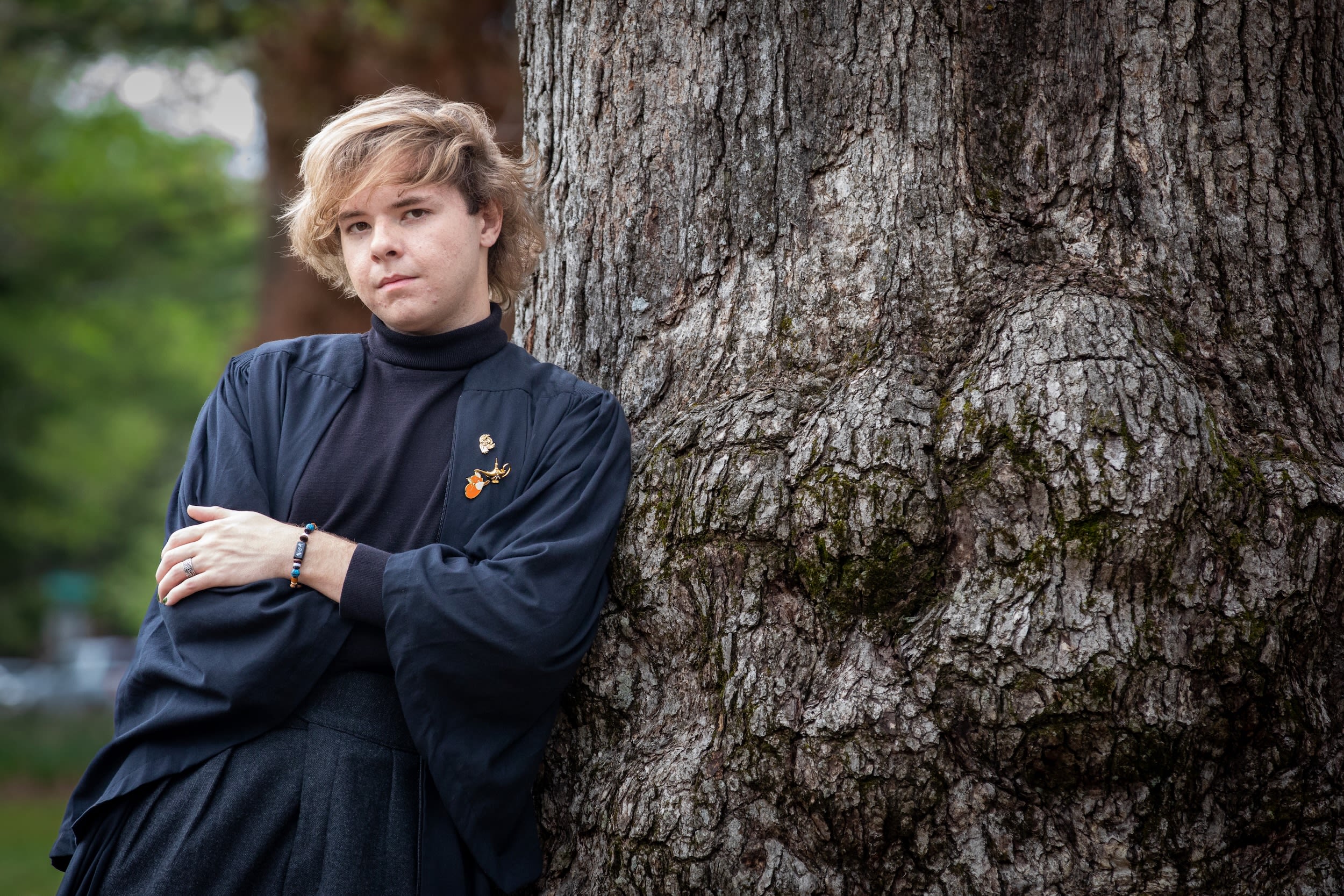 UNBEARABLE HEAT. Quiet rage. Dolly Parton. For Carson Mendheim, C'25, these were the building blocks from which arose 9 to 5, a new short play written for the Alabama Shakespeare Festival's Young Southern Writers Program. Over the course of the play's 10-minute run time, two groundskeepers on a break from their outdoor labor get into a heated discussion as they attempt to fix a broken radio. Tensions rise as they trade jabs, first verbal and later lightly physical, until their simmering conflict boils over—into a duet of Dolly Parton's "Jolene."
Those building blocks had come to Mendheim entirely by chance. One of just five college students selected for the program, Mendheim had drawn three random, Southern-inflected elements and been given 24 hours to create a new work that incorporated all of them. The resulting play would go on to win the program's Critics Choice Award and cap off an immersive experience of creative activity in fellowship with other writers. What's more, it would also serve as an opportunity for Mendheim to interrogate the very notion of a Southern story—and, by extension, what it means to be a Southern writer.
Begrudging Acceptance
WRITING HAS ALWAYS been important to Mendheim. "It was always the thing I was good at. I never had particularly stellar test grades, but I could always write a very good essay," says Mendheim, who uses the pronoun "they." Though their high school offered a creative writing class, Mendheim primarily wrote as a hobby and took their first stabs at fiction writing in the form of short stories.
Sewanee's liberal arts curriculum was a major draw for Mendheim, who wanted a broad education rather than something laser focused on a single vocation. Initially, they resisted the call of an English major. "I tried so many other things," says Mendheim, "but eventually writing just grabbed me and pulled me back in."
Yet despite having begrudgingly accepted their calling as a writer, Mendheim's further transformation into a playwright still almost didn't happen. Mendheim first had eyes on enrolling in an introductory fiction or poetry course in their sophomore year, only to find that they had to accept a spot on each course's waitlist. Mendheim added the playwriting course to their schedule as a back-up plan, only to find the first week's assignment—a two-page scene—so invigorating that they stuck with the course even after seats opened up in their original choices.
It would quickly prove to be a fruitful decision. "From our very first exercise, I could tell there was something unique about Carson's voice and the stories they were choosing to tell," says Elyzabeth Wilder, visiting assistant professor of English and Tennessee Williams playwright in residence at the University. Though they were new to the form, Mendheim's writing stood out for how the language and storytelling decisions felt organic rather than contrived. "Carson addresses important issues and themes," says Wilder, "and does so with a remarkable blend of emotional honesty and humor."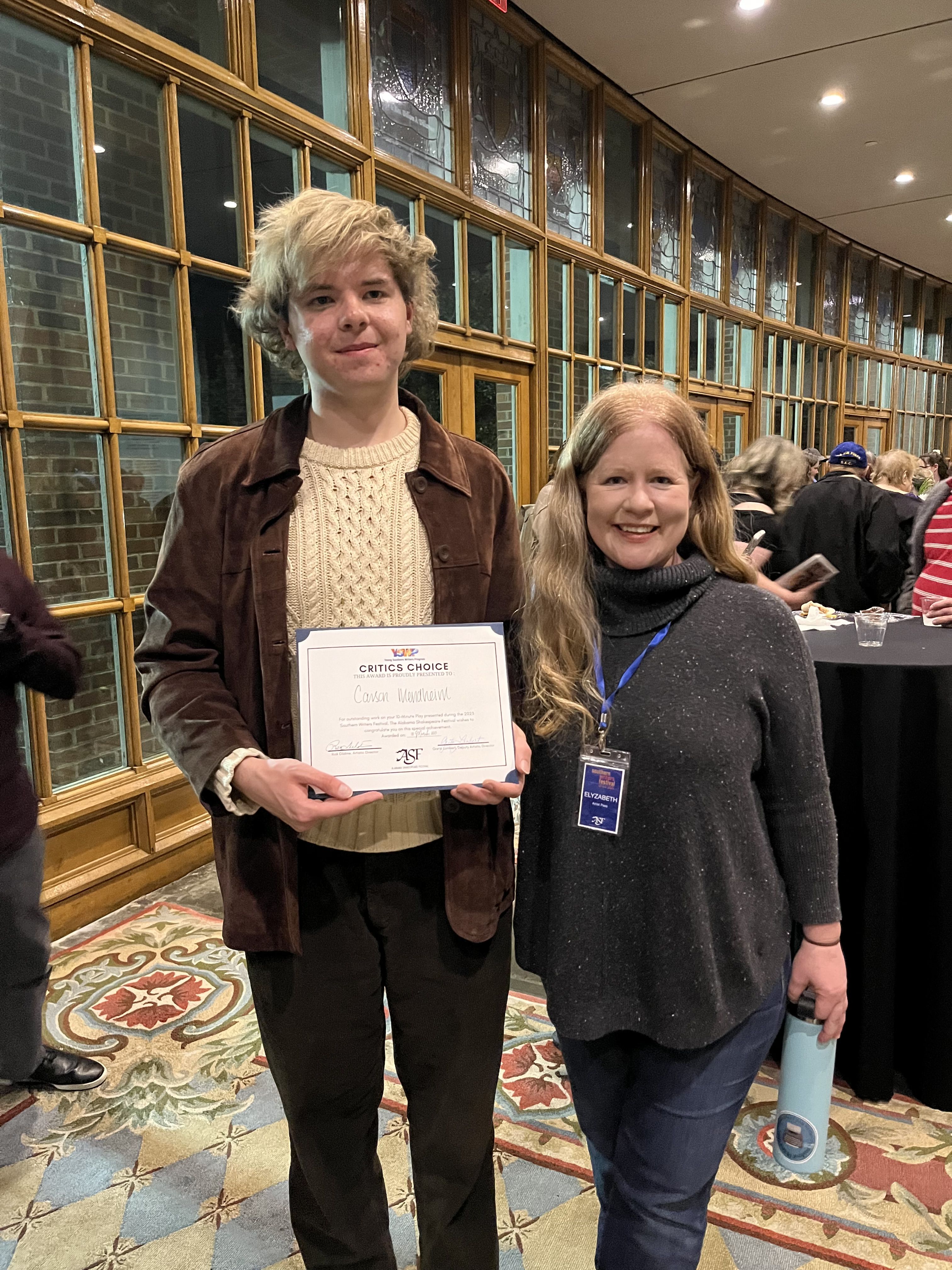 Emotional Truth
"I TRY TO MAKE my work very uncomfortable, both to write and to read," says Mendheim. Often, this means challenging the reader with themes or content that resist neat summary, particularly with regard to sex and gender. "When a lot of people in academic settings talk about sexuality and gender, they're always very polite and careful about it," says Mendheim. "I understand why, but I think it defeats the purpose of talking about these issues in the first place if we try to avoid all discomfort."
The discomfort experienced by the writer, on the other hand, springs from the personal memories and experiences that surface during the creative process. While sometimes tangential to and almost never translated directly into the work, that occasionally painful personal resonance serves as a sign to Mendheim that the piece has emotional stakes that are grounded in truth.
Thus far, Mendheim has resisted the temptation to create works that are autobiographical in nature. "I don't want my writing to become like that argument you have with yourself in the shower, where you're always winning," they say. But Mendheim does frequently excavate personal experience for inspiration in the form of setting or character.
For instance, after drawing those three initial prompts at the Young Southern Writers Program—unbearable heat, quiet rage, and Dolly Parton—Mendheim found inspiration for 9 to 5's setting in a summer job. The mere mention of unbearable heat caused them to flash back to time spent toiling under the Southern sun as a groundskeeper at a public park in Alabama. Among their coworkers was an older man who, after learning Mendheim was bisexual, became fixated on the idea that Mendheim should join the military in order to "straighten [them] out."
Mendheim locates queer narrative elements within traditionally Southern settings as part of a push to tell the kinds of stories that have long gone untold—the ones that, they say, would have previously been considered "too queer for the country people, and too country for the queer people."
What was a minor interaction in real life becomes something different when filtered through the playwright's lens in 9 to 5. There's still an older man who is uncomfortably insistent that his younger protegé join the Marines. But in this telling, his interest takes on distinct homoerotic undertones as the two men's tussling flits back and forth across the line between fraternal roughhousing and something more intimately charged. The ambiguity as to what each incidence of contact means to both characters is entirely the point.
A Southern Writer
FASCINATED BY THE power dynamics inherent to sex and the not so distant relationship between homophobia and homoeroticism, Mendheim often incorporates queer themes into their work, usually with a sharply Southern bent. Embracing the label of "Southern writer" and consciously pushing at its bounds, Mendheim locates queer narrative elements within traditionally Southern settings as part of a push to tell the kinds of stories that have long gone untold—the ones that, they say, would have previously been considered "too queer for the country people, and too country for the queer people."
Telling one of those stories in the company of fellow young writers at the Alabama Shakespeare Festival, one of the ten largest Shakespeare festivals in the world and a venerated institution in the state, proved to be both an inspirational and transformational experience. "I grew up going to see shows at the Alabama Shakespeare Festival, so it was kind of a full circle experience getting to come back as a writer," says Mendheim. Remarkably, it was an experience that came mere months after Mendheim first began experimenting with the art form.
Among the many growth opportunities the festival afforded Mendheim, the most significant was that it marked the first time their work would be presented publicly, outside of the classroom context. By nearly all measures, it was a major success. 9 to 5 met with a fair amount of acclaim, inspiring congratulatory words from one of the professional playwrights presenting new work at the festival and winning the program's prestigious Critics Choice Award.
The award win, of course, provided Mendheim with some validation that others understood their work to be important. But the intensity of the exposure to the creative activity of both peers and professional playwrights also helped Mendheim to identify new subject matter to which they can apply their voice.
Putting their liberal arts studies to good use, Mendheim's next play will draw on medieval studies research and coursework to tell an imagined tale set against the backdrop of the Norman conquest of England in 1066. While admittedly a departure from previous work, some mainstays of Mendheim's style—their approach to depicting conflict and their rendering of hot, pressure-cooker environments—still translate to the new milieu.
"The best stories are ones steeped in specificity," says Wilder, "and Carson is able to achieve that because of their immense knowledge and curiosity about the settings they've chosen." And when it comes to taking that approach and authentically telling stories about or inspired by the queer South, Mendheim is just getting started.