Fellow Travelers
Over the next year, Sewanee's two newest Watson Fellows will circle the globe to explore passions they've nurtured since childhood.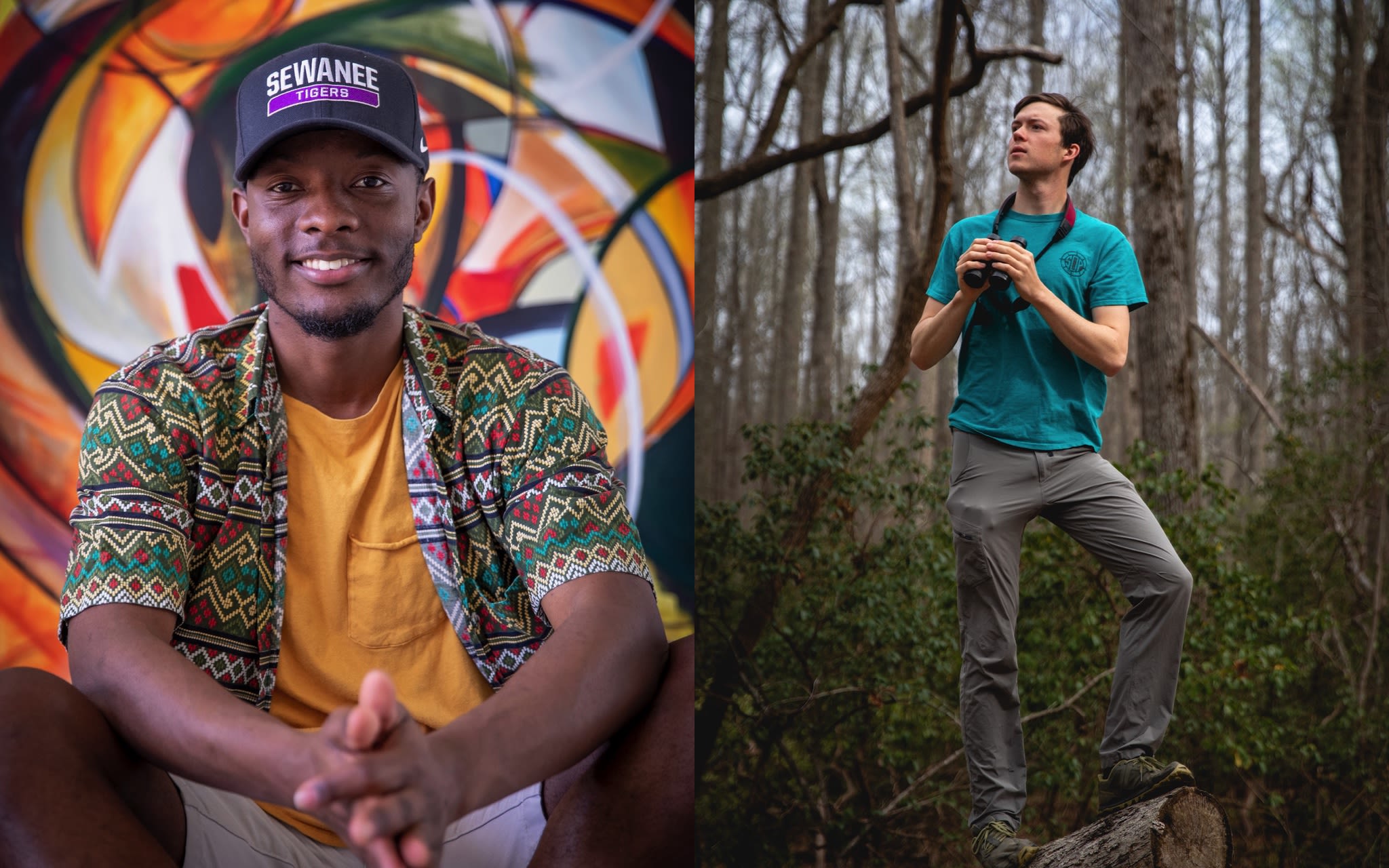 Olivier Mbabazi (left) and Angus Pritchard
Olivier Mbabazi (left) and Angus Pritchard
For the second year in a row, not one but two graduating Sewanee students have been named Thomas Watson Foundation Fellows, a coveted distinction that carries with it a fully funded year of international travel to pursue a project straight out of the fellow's own imagination. This year's Sewanee Watson winners, Olivier Mbabazi and Angus Pritchard, both dreamed up ambitious projects to delve more deeply into interests they've nurtured since they were young children. It's like they've been preparing for this moment for their whole lives.
Olivier Mbabazi, "Art and Human Resilience"
When the 1994 genocide against the Tutsi erupted in Rwanda, Olivier Mbabazi's family fled to the Democratic Republic of Congo to escape the violence. But he wasn't with them yet.
Mbabazi would be born later in a Congolese refugee camp and wouldn't catch his first glimpse of the family's homeland until they returned to Rwanda after the war. From an early age, growing up in the wake of a national trauma, Mbabazi found comfort in the act of creation. A musician, painter, sculptor, and filmmaker, he became interested in the power of art both to bring people together and to drive people apart. He learned that art, in service of hateful political propaganda, had fueled the divisiveness that led to and justified the atrocities that befell his country in the late 1990s. But he also learned that art could heal.
Now, for his Watson Fellowship project, Mbabazi will travel the world to explore how cultures use visual art and music to process past traumas and to create tolerance and resilience. He will live with artists who have suffered through periods of war, displacement, and persecution, and, as an artist himself, Mbabazi will create work inspired by the places he goes and the people he meets.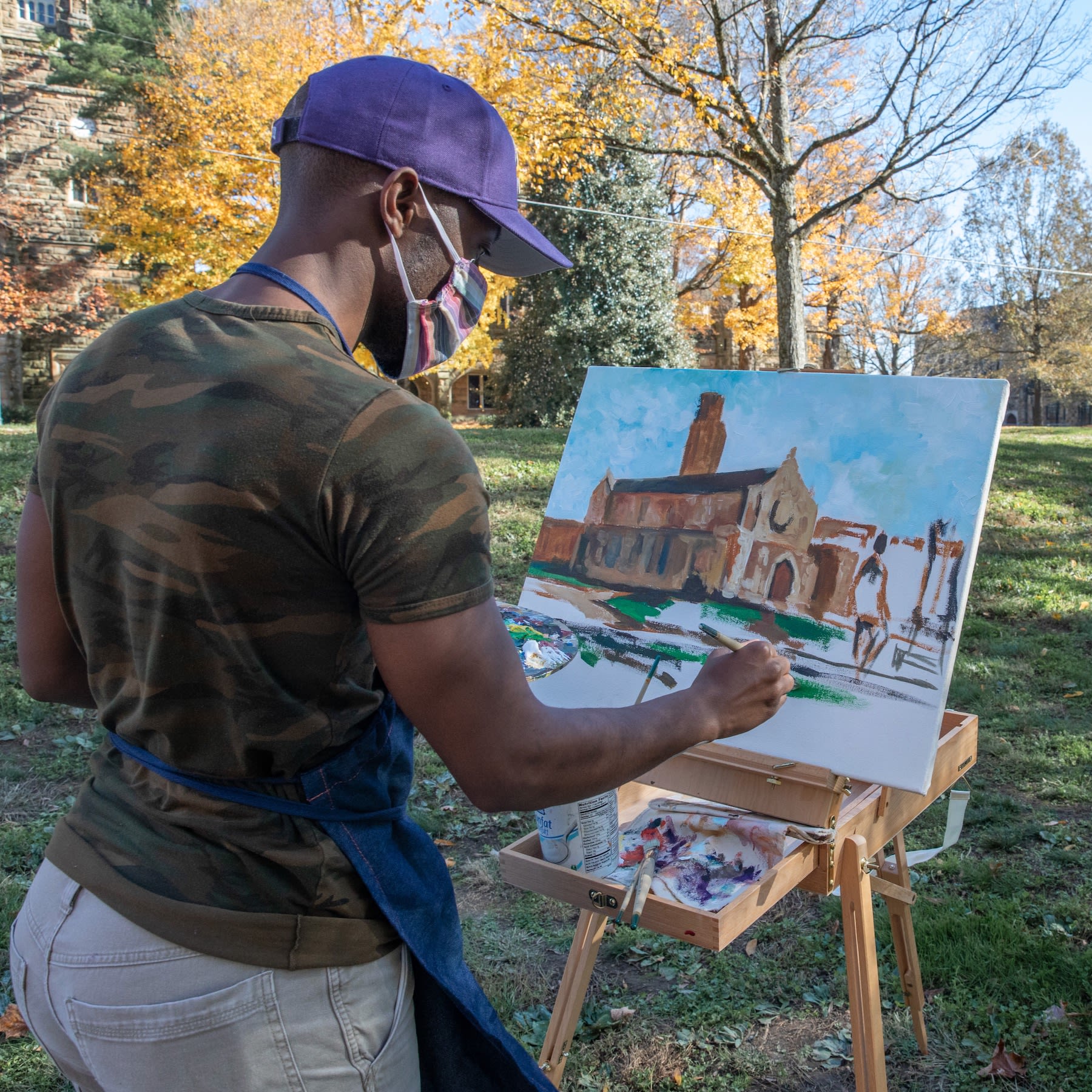 "If you think about it, every nation has suffered in some ways," Mbabazi says. "So, I'm trying to take a cumulative view of culture and the past, but there are specific elements that I want to explore—trauma and violence and suffering."
The people of Cape Verde, off the west coast of Africa, have suffered from forced migration and poverty due to climate change. When he travels there, Mbabazi will visit with musicians to learn about the island nation's celebrated folk music, morna, and will work with underserved students in a small art academy. In Israel, he will seek out groups of Jewish artists who use a variety of forms of art to create cultural solidarity in response to the Holocaust. In Mongolia, Mbabazi will work with blacksmiths and textile artists from previously nomadic cultures who have been forced by economic conditions to seek work in the country's crowded capital city. In Bhutan, he hopes to study traditional music and Buddhist tantra painting. In Papua New Guinea, he'll get involved with the Mariwai Art Initiative in an effort to preserve traditional art forms that are in danger of extinction. And in Mexico, he hopes to work with indigenous artists who are using technology to create art and autonomy for their communities.
Along the way, Mbabazi says he hopes to forge ties with fellow artists that will inform his own art practice well into the future. "I want to build lasting relationships with different communities that I will meet, and I want to create art with these communities," he says. "I want to experience other cultures but also become a part of them. I have no doubt that will feed my creativity in a life-changing way."
Because Mbabazi's project focuses on the shared pain and suffering of people, his advisors in Sewanee were concerned that his time abroad might unrelentingly bleak. But he sees it differently. "The Watson team here at Sewanee asked me, 'Where is the joy in this project? This sounds like a heavy route to take,'" he says. "But making work, whether it's fine art or playing music, writing songs, playing drums, or observing other people doing those things, that's where the joy is."
Angus Pritchard, "Iconic Birds Through the Eyes of Community Leaders"
Growing up in Atlanta, Angus Pritchard was, like many kids, starstruck. The celebrity objects of Pritchard's devotion, however, were not tween TV stars, pop idols, or high-flying professional athletes but some of the world's iconic bird species. Pritchard devoured David Attenborough's seven-hour documentary series The Life of Birds over and over again, and he read field guides from cover to cover.
Unlike some childhood passions, Pritchard's love of birds never waned. By the time he was seven years old, he was a team leader in the Georgia Youth Birding Competition. When he turned 10 years old, his family indulged a birthday wish to search for his favorite species, the peregrine falcon, and he found one. And the summer before he came to Sewanee, he washed dishes at a pizza restaurant to save up for a dream birding trip to Ecuador with his younger brother, where he saw 657 species.
At Sewanee, the biology major's interest in all things avian expanded from collecting new species for his life list to learning about global biodiversity and habitat conservation. Pritchard now plans to make conservation his life's work with the hope of contributing to solutions to the connected crises of climate change and global poverty. With that in mind, Pritchard's Watson project combines his lifelong interest in birds with a focus on biodiversity conservation and the ways in which local communities interact with these birds.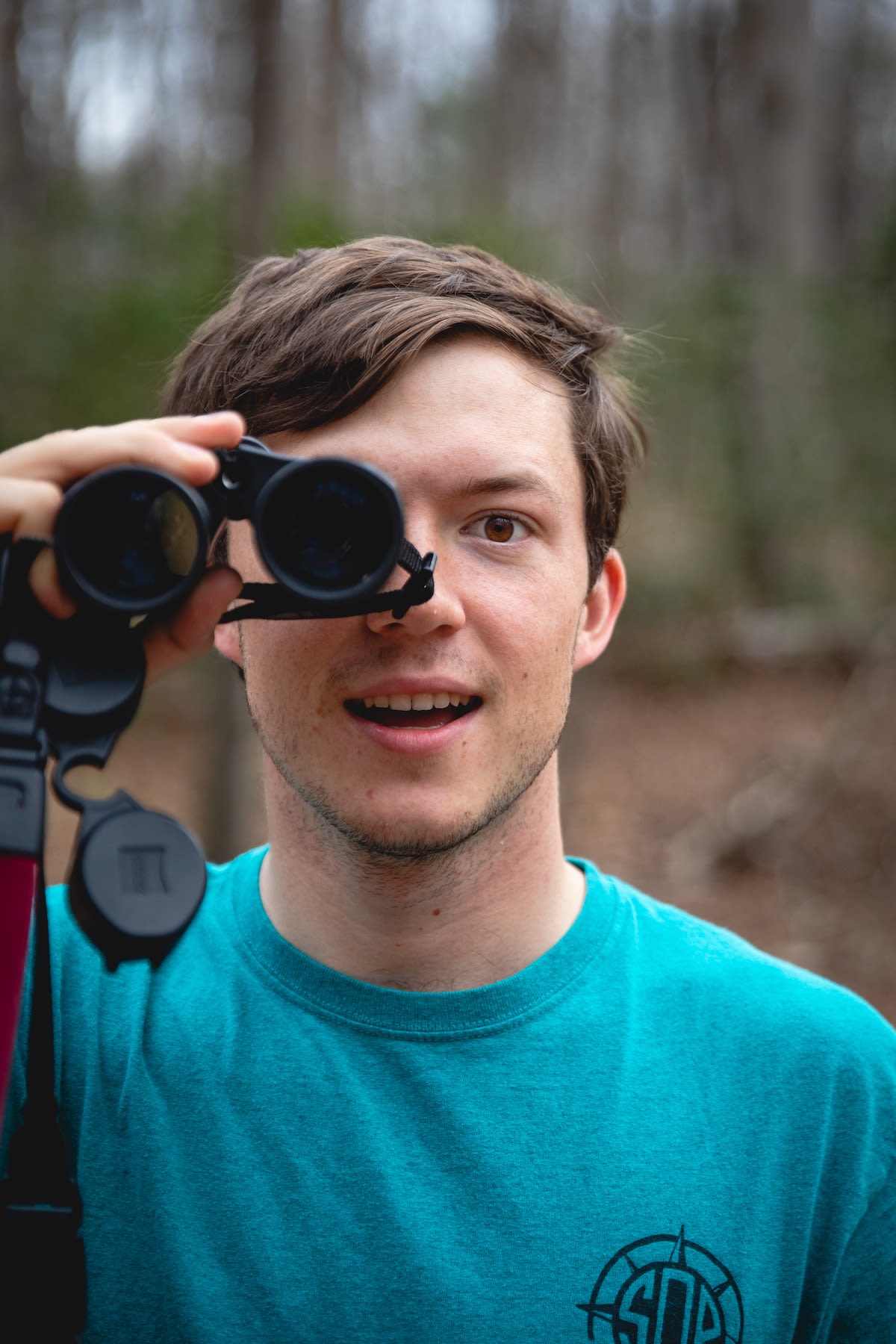 Pritchard has chosen to seek out some of the iconic bird species he's most admired from afar since he was a preteen enthusiast and to use those species as a guide to learn about the conservation of their habitats and about the people who live with and work to protect them. "I want to know whether my understanding and my love for these birds is similar to that of people who actually live in the places that the birds live," he says. "It's about human relationships with birds, about the different ways that people work to conserve birds around the world."
In the Andean cloud forest of northern Peru, Pritchard will seek out the endangered marvelous spatuletail hummingbird, remarkable for its two long, bare tailfeathers that end in racket-shaped "spatules." In Paraguay, he'll be looking for the huge, spectacularly colored bill of the toco toucan ("the Froot Loops bird," Pritchard says). From there, he hopes to find a way to the South Georgia Islands in the South Atlantic, the nesting home of the wandering albatross, which boasts the largest wingspan—12 feet—of any bird in the world. In Antarctica, he'll study emperor penguins, a favorite of Pritchard's since he first saw the Morgan Freeman-narrated March of the Penguins as a child. On New Zealand's Codfish Island, he'll get a close-up look at a wildly successful breeding and reintroduction program for the New Zealand night parrot, the kakapo, once the world's rarest bird. And in Papua New Guinea, he hopes to find cassowaries, ostrich-like birds that live in the forest, and some birds of paradise species, whose complex and colorful mating rituals are often featured in wildlife documentaries.
At every step of the journey, Pritchard will work with conservationists and scientists, but also with local residents to try to gain an understanding of the roles these birds play in their lives. "I want to come out of this with a better sense of how conservation interfaces with both birds and with community understanding of birds," Pritchard says. "In the Utcubamba Valley, where the marvelous spatuletail is found, I want to talk to the people who live there and find out if this bird is actually important to them. I want to ask, 'Is it even in your peripheral vision? Is it part of your mission to preserve this bird? Or are there other species that don't have as good an agent?' There are a lot more birds than American and European birders are familiar with that are really important to the people who actually live with the birds."